Biography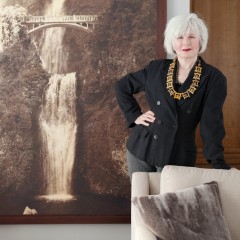 After studying languages and the various arts in London, my birthplace,  I came to New York in 1973  to pursue a career in journalistic photography. Over the next ten years I also dabbled in acting, I produced a line of jewelry, cooked professionally and wrote and styled fashion stories in New York and West Berlin where I relocated for three of those years. A commission to produce a weekly feature for the Daily News Magazine brought me back to New York permanently in 1985 and for the next five years, every Sunday, I showcased the latest and greatest from the worlds of fashion and design.
During those years my byline appeared in a number of other publications (including Harper's Bazaar, Cosmopolitan, New York Sunday Times Magazine, World of Interiors, Details, London Sunday Times Magazine) as I opined on everything from bee-hive hair dos to saunas, reviewed movies and profiled celebrities.  Around 1991 I streamlined my professional interests in order to produce interior design and architecture features which lead to my joining the masthead of Elle Decor as a contributing special projects editor. At the beginning of 1994 I joined the staff of Metropolitan Home Magazine where I was the creative director for 16 years.
Since Met Home's untimely demise I am once again a freelancer and currently write about design for publications including Modern, Veranda and the New York Observer. In between my longer term book projects I also art direct, moderate panels, and judge design competitions. I have two books launching this fall  – Expressive Modern, a monograph on Amy Lau's interiors and Brilliant: White In Design where I investigate the color's diverse characteristics.  Shoes, my historical chronicle  of women's footwear, is currently in its 21st American printing and is available in 15 different languages.