Interior Designer Kendall Wilkinson Redesigns a Victorian Grande Dame to Suit a Family's Relaxed Lifestyle
San Francisco Cottages Gardens / Summer 2014
By Linda O'Keefe
Photography by John Merkl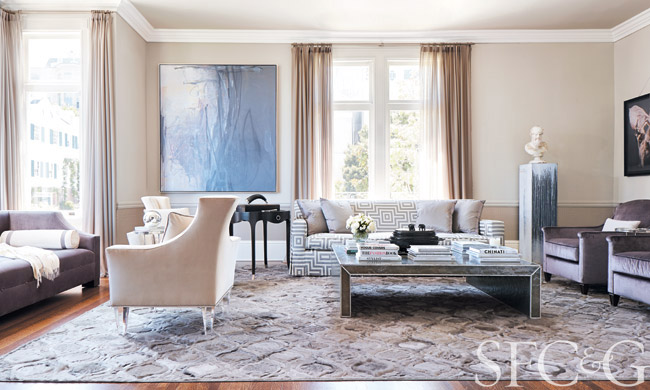 Doffing his hat to Victorian formality and his client's lavish entertaining, architect William H. Hamilton incorporated generous hallways and grand rooms into the Pacific Heights mansion he designed in 1894. To impress guests, he coffered ceilings, crafted wainscoting, and built a central staircase with liberal amounts of oak, mahogany and walnut. More than a century later, the current owners, a stylish young couple with two children, asked San Francisco interior designer Kendall Wilkinson to re-envision the grande dame as a space that would accommodate their relaxed lifestyle while preserving its elegant legacy.
On her first site visit, Wilkinson began by removing several windows worth of heavy, traditional draperies, opening the home up to the sunlight and fabulous views of Alcatraz, the Bay and Golden Gate bridges. She also imagined the 7,000-square-foot house with lighter woodwork, but says, "The thought of painting everything white struck me—and the clients—as sacrilegious." They compromised with an experiment: The owners allowed Wilkinson to try whitening the paneling in the family room if she promised to reverse it if they were unhappy. "Luckily, we all thought it worked," she says.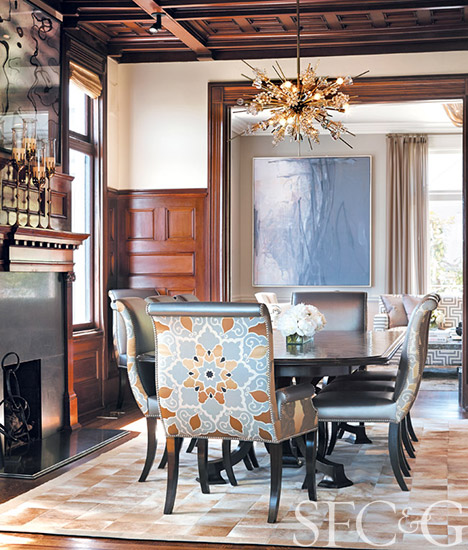 A starburst Swarovski chandelier from A. Rudin adds glamour to the dining room.Throughout the house, the palette is subtle but distinctive. The living room features a seductive blend of lavender, ethereal metallic tones, and several depths of white; the dining room is chic in pewter, mink and pearl; and upstairs, in the master bedroom suite, lavender is paired with muted greens, silvers and grays. It could be argued that Wilkinson's noted fluency with color is partly inherited: Her grandmother was a painter and her mother, Alice Whiley Hall, is an interior designer who "uses it boldly," says Wilkinson, laughing. "Compared to her, I've definitely taken it down a notch or two—color is so subjective. It enables me to infuse spaces with emotion."
Wilkinson went to great lengths to accommodate her clients' tastes as well as the needs of their children. So, while the furnishings exude glamour and elegance, they're also fun and user-friendly. None of the solid surfaces are precious; the solid walnut dining table has smooth, beveled edges and nailhead trims soften angular chair edges. The shapely dining-chair backs wear gorgeous silk jacquard but have faux-leather seats. And anything fragile or ornate—a chandelier bursting with Swarovski crystals and a fixture created from draped rows of chains, for example—is out of reach of tiny fingers.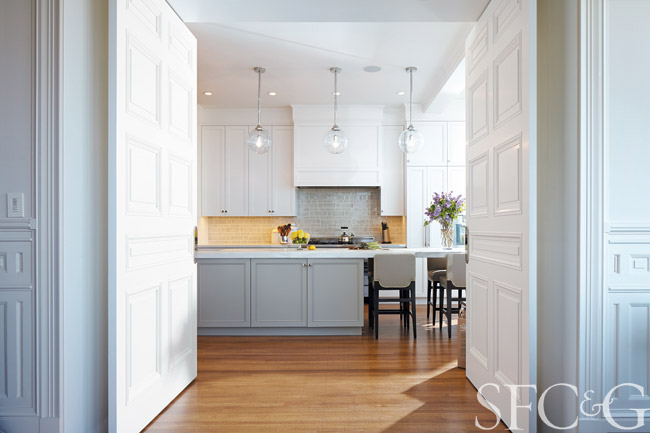 Globe pendants above the marble-wrapped island are through Remains Lighting. Backsplash is by Artistic Tile.
To help create the kitchen, Wilkinson brought in Houman Sharif of MEM Architecture. Sharif decided to reorient the space, and his dramatic intervention allowed for 25 feet of cabinetry, as well as a luxurious 16-foot-long Calacatta marble island. The space now also extends into a charming dining area and expands outward onto a deck. "Houman's solution was brilliant, as were the clients, who constantly encouraged us to be more creative," says Wilkinson. "I thrive on that kind of collaboration."
Globe pendants above marble-wrapped kitchen island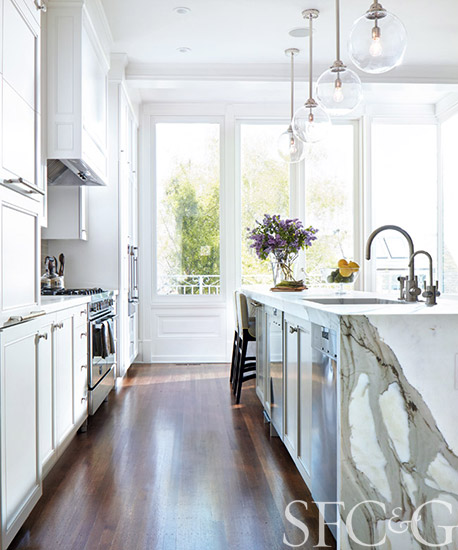 If houses can be considered to have a gender, the 19th-century manse veered toward the masculine. Through her redesign, Wilkinson brought it in touch with its feminine side, so that the space feels balanced and whole. "I think of myself as a classicist who prefers tailored lines and mixes antique and contemporary silhouettes," she says. In the living room, for example, even though the chaise longue and tête-a-tête chairs have a vintage feel, the silhouettes are clean and strong, keeping the look of the space modern.
The client's stylish sensibility can be seen in glamorous touches throughout, from the spectacular Swarovski chandelier in the dining room to the custom lavender velvet settee in the dressing room. "Fashion inspires me," says Wilkinson, and one imagines that this grande dame, with her classic style respectfully updated for the 21st century, would approve.
A version of this article appeared in the Summer 2014 issue of San Francisco Cottages & Gardens with the headline: Victorian Revival.